Hi all! Stopping in briefly to share a few sneaks of this month's PenPal kits. I absolutely love this adorable kit. Full of brights and bolds and lots of embellishments and exclusive stamps that scream summer and adventuring fun! I am just cracking into this kit and have already made several cards and a layout. I will try to get back here with more sneaks to share before reveal on Thursday night. I will be hosting and look forward to seeing y'all there.
[url][URL=http://s1184.photobucket.com/user/SuzMannecke/media/CDAUGUSTSNEAKSPENPAL_zpsdmcgsxnw.jpg.html]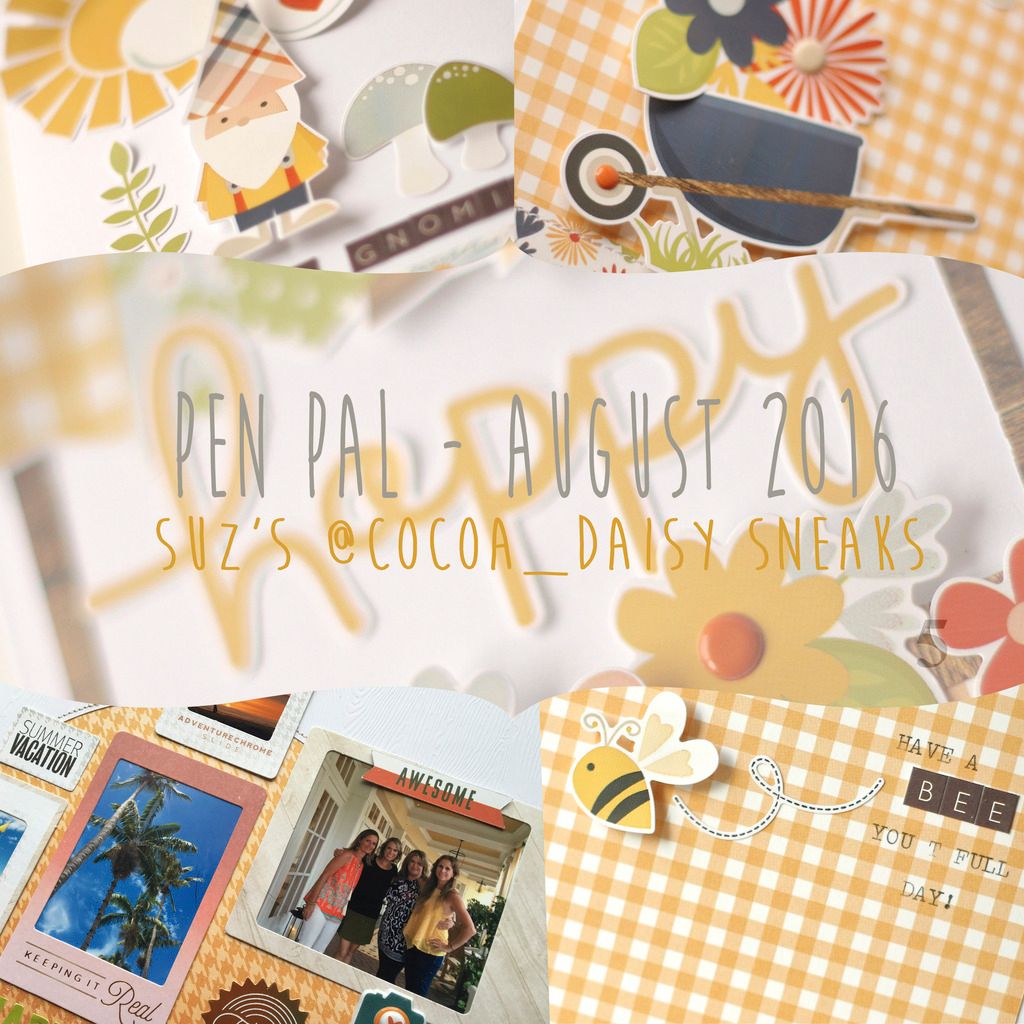 [/url][/url]

Cocoa Daisy

Posts: 2961
Images: 489
Joined: Oct 1st, '11, 1:02 am
Has thanked: 1006 times
Been thanked: 370 times
---
these look fab!!!
love the yellow and that bee is adorable!!
Cocoa Daisy

Posts: 910
Images: 71
Joined: Apr 3rd, '09, 4:48 pm
Location: canada
Has thanked: 192 times
Been thanked: 187 times
---
How cute is that gnome! Love the frames and grid and clever "bee" sentiment. Looking forward to your cards and PL as always. Thanks for the sneaks.
Cocoa Daisy

Posts: 1184
Images: 89
Joined: Nov 11th, '11, 4:30 pm
Has thanked: 23 times
Been thanked: 366 times
---
Thanks, Suz. Very cute. Looking forward to the reveal. Talk to you then.
Cocoa Daisy

Posts: 581
Images: 79
Joined: Jul 31st, '14, 6:29 pm
Has thanked: 57 times
Been thanked: 188 times
---
ORANGE!! Awesome! I will be here tomorrow for reveal as well, Suz.
Cocoa Daisy

Posts: 1096
Images: 34
Joined: Feb 14th, '07, 12:48 am
Has thanked: 414 times
Been thanked: 331 times
---
These are awesome!
Cocoa Daisy

Posts: 288
Images: 266
Joined: Jul 26th, '15, 7:37 am
Has thanked: 193 times
Been thanked: 49 times
---
This is adorable....love the yellow, the bee and the mushrooms...well all of it! =)
Daisy Petal

Posts: 7
Joined: Aug 28th, '15, 5:47 pm
Has thanked: 1 time
Been thanked: 2 times
---
OMGosh that gnome! Will be glued to my ipad tonight waiting for the reveal
)))
Daisy Petal

Posts: 32
Images: 26
Joined: Jul 1st, '15, 2:29 pm
Location: Central Pennsylvania
Has thanked: 11 times
Been thanked: 2 times
---
---
Who is online
Users browsing this forum: No registered users and 0 guests