What a lovely way to start the new year, inspired by the classic novel, Pride and Prejudice, Cocoa Daisy would like to introduce Pemberley.
Named after the estate of Mr. Darcy, our Pemberley is decorated just as elegantly in fuchsias, mustard yellows, creams, whites, and french blues. Papers from My Mind's Eye, October Afternoon, and Pink Paislee mix with embellishments from Maya Road and Basic Grey. We've included a date stamp from Dear Lizzy, some elegant crushed silk ribbon from May Arts, and frilly doilies. An alphabet sticker sheet with four different fonts as well as our exclusive Right Here, Right Now stamp wrap up the accoutrements. And like every good story, we've got a sweet surprise with the addition of some turquoise punchinella. One mustn't take oneself too seriously, you know.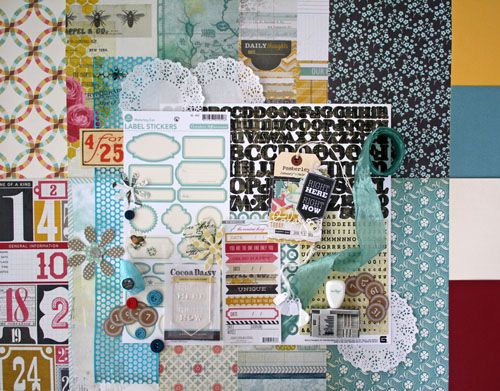 Elizabeth
Just like Jane Austen's heroine, our Elizabeth is bright, spunky, and lively. You'll get a whole pack of die cuts from Pink Paislee full of fun phrases and shapes. We've added playful papers and stickers from Echo Park's Photo Freedom line, three rolls of My Mind's Eye decorative tape and their enamel dots. And like any good book, we made sure to add some library cards, in case you want to lend it to a friend.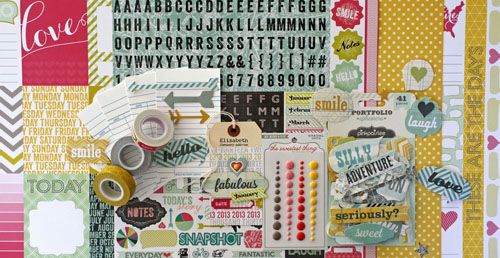 Mr. Darcy
More subtle and subdued than the Elizabeth add on, our version of Mr. Darcy is debonaire and stately. Greys and mustard yellows from American Crafts, My Mind's Eye, and Heidi Swapp play off cream flowers from Basic Grey. We add a few pops of aqua and topped it off with washi tape from Prima. A pack of animal trivia cards from Jenni Bowlin Studios add to the manly feel of this add on.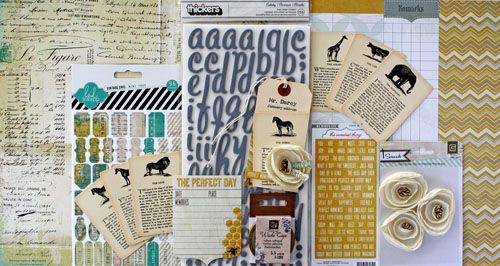 Netherfield Park
A good mix of the quiet yellows, creams, and blues balanced with a couple of bright and cheery pink. We've used papers from Basic Grey, My Mind's Eye, Heidi Swapp, and Jillibean Soup to create a patterned paper add on worthy to be the neighboring estate to Pemberley.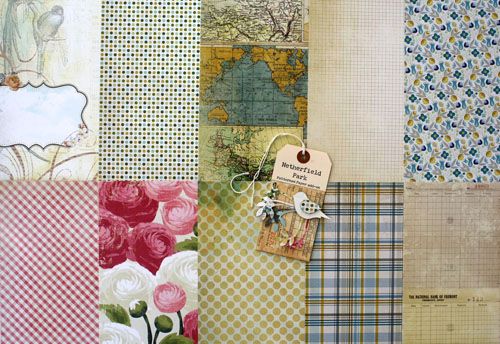 From the chatter amongst the Design Team, we think you're going to love our January stamps! A pair of fabulous and funky feathers, a calendar with fun extra touches, and a set of funky arrows and whatnots, we're really excited to see what you do with our stamps.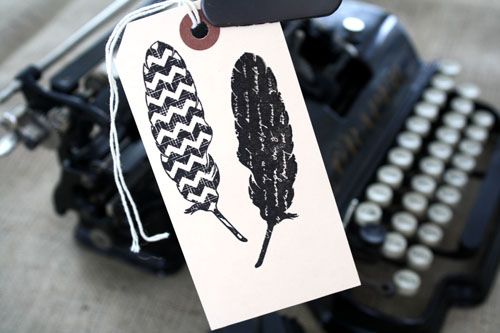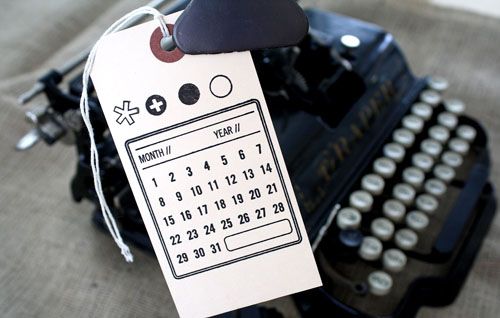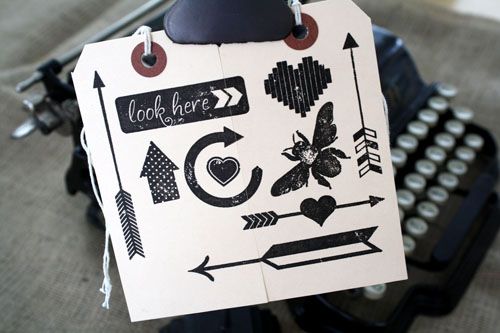 Christine

Cocoa Daisy

Posts: 5632
Images: 731
Joined: Mar 17th, '07, 8:37 pm
Has thanked: 153 times
Been thanked: 564 times
---
Oh I'm going to order most of it!
Cocoa Daisy

Posts: 4867
Images: 166
Joined: Mar 17th, '12, 7:45 pm
Location: Mid-Michigan
Has thanked: 1052 times
Been thanked: 662 times
---
Amazing month! You can't go wrong with any of the add-on kits or stamps. Gorgeous!! And so versatile, too. Thanks for putting together such great options, Christine!
Diana Fisher
http://designbydiana.blogspot.com/
Cocoa Daisy

Posts: 693
Images: 69
Joined: Feb 20th, '12, 1:19 pm
Location: Rochester, NY
Has thanked: 0 time
Been thanked: 0 time
---
Cocoa Daisy

Posts: 3443
Images: 62
Joined: Oct 17th, '11, 9:28 pm
Location: TN
Has thanked: 308 times
Been thanked: 219 times
---
I can't wait to get my hands on the feather stamps!
Cocoa Daisy

Posts: 3443
Images: 62
Joined: Oct 17th, '11, 9:28 pm
Location: TN
Has thanked: 308 times
Been thanked: 219 times
---
I wasthrilled when I opened my boxes of the Main kit and Elizabeth add-on. I am ready to buy one more of each tonight! I love this month so much!

You kicked off the year in a smashing way, Christine! The stamps are so great too!!

Cocoa Daisy

Posts: 2648
Images: 217
Joined: Jul 5th, '12, 2:08 pm
Location: Michigan, USA
Has thanked: 161 times
Been thanked: 157 times
---
Hi there! I'm really new to the whole kit thing.... but have been peepin' out the stamps here for oh so long.... are the ones shown the stamp kit subscription stamps?
Daisy

Posts: 63
Images: 4
Joined: Nov 11th, '11, 3:17 pm
Has thanked: 0 time
Been thanked: 0 time
---
The bits stamps!!!!!!!! I need, want must have them.
Love all the colors in the kit, so much great stuff.
that metallic turquoise punchinella, my new favorite supply.
Cocoa Daisy

Posts: 11301
Images: 472
Joined: Aug 13th, '10, 8:02 am
Has thanked: 454 times
Been thanked: 768 times
---
---
Who is online
Users browsing this forum: No registered users and 3 guests