I saw this cute reindeer basket on Patricia's Instagram, and picked one up at Target last week. I wasn't sure what I was going to do with it, but this morning I figured it out.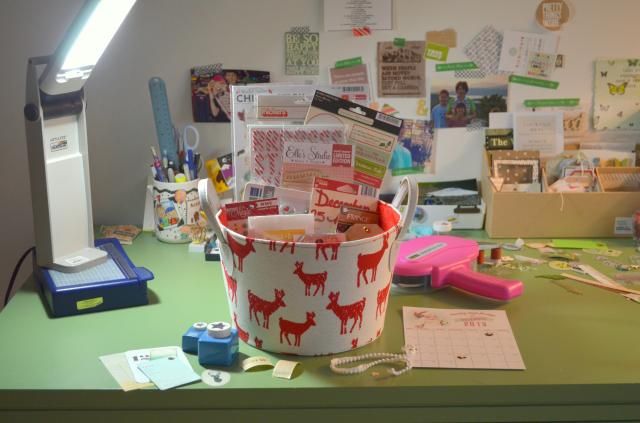 Thanks Patricia!
How are you guys getting organized? I am ready (and excited) to get started. I'm going to start on some simple pages in 8.5 x 11 with last years pictures. I may throw in a few 6x8 pages as well.
Cocoa Daisy

Posts: 2082
Images: 428
Joined: Oct 26th, '12, 4:41 pm
Location: Western NY
Has thanked: 370 times
Been thanked: 484 times
---
I wish our Target was like your Target!!
That is one gorgeous basket!
Having things within reach is a great way to be creative.
Sharmaine
http://skruijver.blogspot.com

Cocoa Daisy

Posts: 3170
Images: 366
Joined: Jul 20th, '09, 8:21 pm
Location: Tasmania, Australia
Has thanked: 75 times
Been thanked: 122 times
---
That's so cute! Great use for it.
Deb
Cocoa Daisy

Posts: 525
Images: 85
Joined: Dec 18th, '13, 6:20 pm
Location: Northern California
Has thanked: 63 times
Been thanked: 137 times
---
Love the red and white reindeer! My December stuff is in generic white plastic organizer trays on the floor next to my desk. Wish mine was as festive!
Cocoa Daisy

Posts: 264
Images: 15
Joined: Oct 28th, '14, 5:45 pm
Location: Portland Oregon
Has thanked: 179 times
Been thanked: 92 times
---
I hardly every get to Target but I may go today! Wonder if there are any left after the Black Friday madness
Cocoa Daisy

Posts: 4867
Images: 166
Joined: Mar 17th, '12, 7:45 pm
Location: Mid-Michigan
Has thanked: 1052 times
Been thanked: 662 times
---
I love it!

I have mine in plain white buckets as well...notice I have to say bucketsssss...I have been doing DD since 2006 and I have collected quite a few treasures over the years. I think I may make them more festive and wrap some Christmas ribbon around them!
Cocoa Daisy

Posts: 759
Images: 3
Joined: Oct 25th, '12, 8:08 pm
Location: Canada
Has thanked: 31 times
Been thanked: 52 times
---
Really cute! What a great idea.
Cocoa Daisy

Posts: 2401
Images: 92
Joined: Dec 18th, '12, 12:24 pm
Location: Ontario, Canada
Has thanked: 427 times
Been thanked: 175 times
---
Great idea Terry!
I have various sized containers I use on my desk for things that are current and I want to get used. It's nice to rotate supplies like that. It's actually how I unpack my kit. I rotate supplies into my stash after I am done but while I am working on it, they are front and center in containers.
Cocoa Daisy

Posts: 11301
Images: 472
Joined: Aug 13th, '10, 8:02 am
Has thanked: 454 times
Been thanked: 768 times
---
What a great bucket. It looks like a really great size. I think this would work really nicely to put present into for gift giving.
---
How cute is that? I love how neatly organized a basket looks.
Design Team

Posts: 6268
Images: 298
Joined: Jan 7th, '10, 3:47 pm
Location: Denver, CO
Has thanked: 558 times
Been thanked: 628 times
---
Super cute! Guess I got an excuse to go to Target tomorrow;)
Daisy Petal

Posts: 24
Joined: Nov 28th, '14, 6:40 pm
Has thanked: 1 time
Been thanked: 5 times
---
Oh my!! A girl after my own heart! I didn't think to add the kit contents. I was hoping it would hold the album. This is awesome!

I went back just a couple of days after getting mine and they were ALL gone! I don't think they ordered enough!!

http://roebuck-adventures.blogspot.com
Cocoa Daisy

Posts: 1297
Images: 115
Joined: Oct 26th, '12, 4:38 pm
Location: Louisiana
Has thanked: 613 times
Been thanked: 240 times
---
---
Who is online
Users browsing this forum: No registered users and 3 guests