Image Description
Created with Record Label, Johnny B, Chuck, Day in the LIfe, and Buddy kits. I did add the #, Q&D from that months alpha. TFL!!
If your are following me on instagram you already know we added Boxer Twins to our family in February, if your not following me here's the story...
Meet The Duchess of Eaton(aka Duchess) and The Queen of Ingham(aka Q).The are actual twins they were carried and born in the same sac. It's very rare for a dog to have actual twins like 1 in a million births. Yes, I know raising 2 pups at once is crazy and 2 boxer pups at once it outta your mind but when I heard the story of them being twins and the vet confirmation that indeed they were I couldn't let them be separated so I decided we would add both to the family K.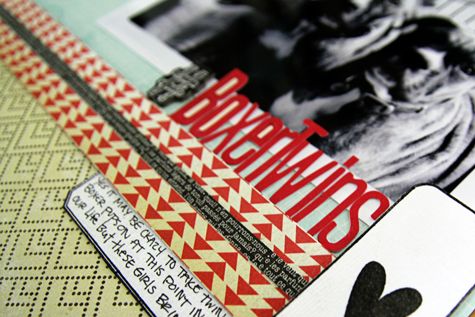 Ok, how perfect is "I double dog dare you" for this???
Love the composition here, and love following the #BoxerTwins on IG!!
Lisa
My Creative Blog:
http://www.mypeaceofpaper.blogspot.com
My Family Blog:
http://www.flahertyfamily.typepad.com
Design Team

Posts: 16889
Images: 1167
Joined: Apr 1st, '09, 7:28 am
Location: UK
Love all of the pattern paper strips! Your twins are adorable!!
MARTI
You get twice as much to love...and double the slobbery kisses right back!
Love this page.

Cocoa Daisy

Posts: 2648
Images: 217
Joined: Jul 5th, '12, 2:08 pm
Location: Michigan, USA
---